In Salaberria cider house you can enjoy a large cafeteria and bar area with tables and bar.

You can start in the morning with a varied and complete breakfast, or have snacks and tapas.

We have an assorted bar menu that includes hot and cold snacks, portions, sandwiches and baguettes, all accompanied by a magnificent selection of wines, beers and soft drinks.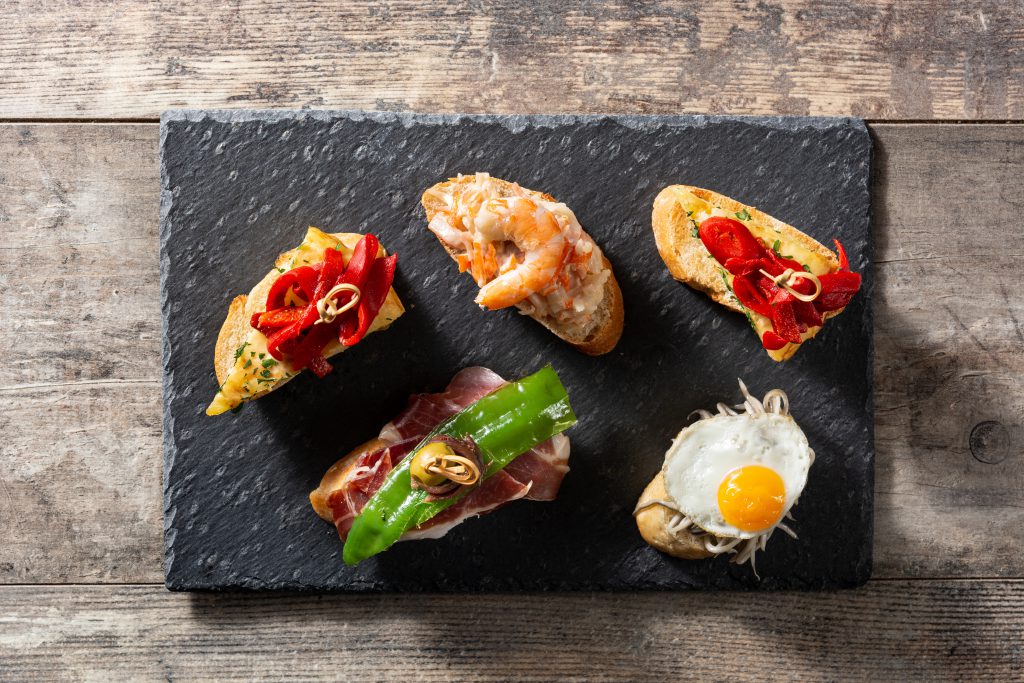 | | |
| --- | --- |
| Gilda | 2.00€ |
| Egg with shrimp | 2.30€ |
| Txaka | 2.30€ |
| Tuna and Mayonnaise | 2.30€ |
| Russian Salad | 2.60€ |
| Ajoarriero | 2.70€ |
| Hake Pie | 2.70€ |
| Mini Iberian Ham | 2.70€ |
| Mini Iberico Ham and Cheese or Green Peppers | 2.80€ |
| | |
| --- | --- |
| Chistorra | 2.60€ |
| Rice Blood Sausage with Piquillo Peppers | 2.70€ |
| Iberico Croquette | 2.20€ |
| Potato Omelette Pintxo | 2.30€ |
| Codfish Omelette Pintxo | 2.70€ |
| Mini Bacon and Cheese | 3.75€ |
| Mini Cooked Ham & Cheese | 3.50€ |
| Mushroom and Bacon Brochette | 3.00€ |
| Prawn and Bacon Brochette | 3.00€ |
| T-bone steak with Potato and Piquillo Peppers | 5.00€ |
| Veal Cheek with Potatoes | 5.00€ |
| | |
| --- | --- |
| Bravas | 7.00€ |
| Iberico Croquettes (6 pcs.) | 13.50€ |
| Squids | 18.00€ |
| Grilled Octopus with Mashed Potatoes and Paprika | 21.00€ |
| Hake Pie | 8.50€ |
| Russian Salad | 9.00€ |
| Iberian Ham | 19.50€ |
| Broken Eggs with Ham and Potatoes | 12.90€ |
| Scrambled Eggs with Blood Sausage, Piquillos and Potatoes | 11.90€ |
| Fish and Seafood Soup Donostiarra Style | 10.00€ |
| Chistorra | 10.00€ |
| | |
| --- | --- |
| Mixed (Cooked Ham and Cheese) | 6.95€ |
| Vegetable (Lettuce, Tomato, Onion, Tuna, Hard Boiled Egg and Mayonnaise) | 7.95€ |
| Cubano (Ham, Fried Egg, Cheese, Lettuce, Tomato and Mayonnaise) | 8.95€ |
| | |
| --- | --- |
| Potato Omelet / Varied | 7.90€ |
| Codfish Omelet | 8.90€ |
| Mixed Iberian | 8.90€ |
| Vegetable with Chicken | 8.90€ |
| Loin, Cheese and Peppers | 7.90€ |
| Chicken, Bacon, Cheese and Peppers | 8.90€ |
| Bacon, Cheese and Peppers | 8.50€ |
| Bonito, Chives and Chilli Pepper | 9.50€ |
| | |
| --- | --- |
| Mixed (Lettuce, Tomato, Onion, Asparagus, Egg, Tuna & Olives) | 9.90€ |
| Country Tomato with Bonito, Chilli Pepper and Onion | 14.50€ |
| Warm, of Goat Cheese and Nuts | 13.50€ |
| Crispy Squid with Pepper Vinaigrette | 15.00€ |
| | |
| --- | --- |
| Bolognese with Cheese | 9.50€ |
| Carbonara with Cheese | 9.50€ |
| | |
| --- | --- |
| Grilled Tenderloin with Fried Egg, Potatoes and Piquillos | 12.90€ |
| Roast Chicken in its Juice with Potatoes and Piquillos | 13.90€ |
| Grilled Chicken Breast with Potatoes and Piquillos | 12.90€ |
| Grilled Beef Short Rib with Potatoes and Piquillos | 13.90€ |
| Escalope with Potatoes and Croquette | 13.50€ |
| Grilled Steak with Peppers and Salad | 13.50€ |
Monday: 9:00 – 16:30 / 19:30 – 23:00
Tuesday: 9:00 – 16:30 / 19:30 – 23:00
Wednesday: 9:00 – 16:30 / 19:30 – 23:00
Thursday: 9:00 – 16:30 / 19:30 – 23:00
Friday: 9:00 – 16:30 / 19:30 – 23:00
Saturday: 10:00 – 16:30 / 19:30 – 23:00
Sunday: 10:00 – 16:30 / Closed